Parker nació el 19 de octubre de 1969 en Conifer, Colorado. Cuando niño, dibujo una figura llamada Mr. Hankey (Sr. Mojón), quién se convertiría en el símbolo de las festividades en South Park. Es cinta negra en taekwondo y era un alumno excelente en la preparatoria en Evergreen y en Fairplay, Colorado. Toca el piano desde los 12 años de edad y cuando recibió su primer cheque de paga se compró un gran piano Steinway.
Parker se transfirió a la Universidad de Colorado en Boulder duespués de un año en the Berklee College of Music en Boston. En la universidad, estudiaba cinematografía y música clásica. Mientras recibía su título en Japonés y en música, vivió en Japón por un tiempo. Se alio en la compañia Troma participando en algunas de sus peliculas. Su primera pelicula "The Canibal musical" fue recaudado con dinero de sus maigos y familiares
A principios de los noventa, Parker conoció a Matt Stone. Los dos crearon dos caricaturas protagonizadas por cuatro niños quienes se convertirían en los personajes principales de South Park.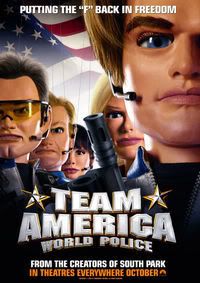 Parker y su familia son la inspiración para el personaje ficticio Stan Marsh. También el personaje de Wendy Testaburger está basado en la antigua novia de Parker.
Con Marc Shaiman, Parker fue nominado para un Oscar por la Mejor Canción por Blame Canada de South Park: Bigger, Longer & Uncut.
Team America: World Police (2004): coescritor, voces, productor, director
That's My Bush! (Serie de televisión, 2001): cocreador, escritor, productor ejecutivo, compositor del tema principal e intérprete
South Park: Bigger, Longer & Uncut (1999): voces, música adicional y letra, coescritor, director
BASEketball (1998): actor
South Park (Serie de televisión, 1997-presente): cocreador, voces, escritor, música adicional, director, productor ejecutivo
Orgazmo (1997): actor, coescritor, director
The Spirit of Christmas (Jesus vs. Santa, 1996; Frosty vs. Santa, 1992)
Cannibal! The músical (1994): actor (como Juan Schwartz), compositor, coescritor, director