Steve Holland protagonizo de 1954 a 1955 la serie de television adaptacion del comic de Flash Gordon, con un total de 39 episodios. La serie esta rodada en Berlin del Este tras la segunda guerra mundial. A finales de los año 30 se realizaron tres seriales sobre el personaje.
Antes habia otras adaptaciones como
Flash Gordon
de
Frederick Stephani
y
Ray Taylor
(1936) la mas recordada por los fans. Protagonizada por
Buster Crabbe, Jean Rogers
, Charles Middleton, Priscilla Lawson y Frank Shannon, la series se conserva gracias al trabajo de la "National Film Registry". A menudo se considera este serial ,que en su momento se podia disfrutar en los cines, como El "
Seigfred
americano" en referencia a la obra expresionista de Fritz Lang por la personalidad y estetica de la serie. Tambien se pueden ver similitudes con la obra
"The Ring
" de
el anillo de los Nibelungos
de
Richard Wagner
que
Fritz Lang
llevo a cabo en su etapa alemana. Este proyecto ha sido el mas ambicioso y costoso de todas sus adaptaciones
Flash Gordon's Trip to Mars: Ford Beebe y Robert F. Hill
(1938)
Flash Gordon Conquers the Universe: Ford Beebe y Ray Taylor (1940)
En 1979, la compañía de dibujos animados Filmation, produjo una serie animada basada en la historieta y es recordada como una de las mejores producciones de este estudio. la serie animada fue lanzada primero pero un TV Film - (Flash Gordon, the Greatest Adventure of All) ya había sido creado aunque se estrenaría años más tarde, y la serie de la TV reutilizó cantidad de material de la película aligerando su contenido, mientras que eliminaba más material adulto, incluyendo un argumento secundario que implicaba a Adolfo Hitler en la trama.
En 1980 se realizó una adaptación para el cine titulada Flash Gordon. Fue dirigida por
Mike Hodges
y contaba con Sam J. Jones como Flash, Melody Anderson interprentando a Dale Arden, Topol como el Dr. Zarkov,
Max von Sydow
como Ming, Timothy Dalton como el Príncipe Barin y Ornella Muti como Aura. La película es más conocida por su banda sonora compuesta e interpretada por el grupo musical
Queen
. Una de las frases de la película resume el hilo argumental de ésta: "Flash, te quiero, pero sólo tenemos catorce horas para salvar la Tierra." La película fue un fracaso comercial pero es la más conocida de las películas sobre el personaje. Anteriormente se habían realizado las siguientes adaptaciones cinematográficas.
En 1982 se realizó también un telefilm:
Flash Gordon: The Greatest Adventure of All: Gwen Wetzler (1982)
En (1986) En los Defensores de la Tierra (Defenders of the Earth) hecho por la compañía (King Features), flash lidereaba un equipo de héroes de comics como el fantasma y Mandrake el mago. En 1996 Hearst Entertainment realizó una serie de dibujos animados para la televisión.
En 2004 el director Stephen Sommers adquirió los derechos cinematográficos del personaje.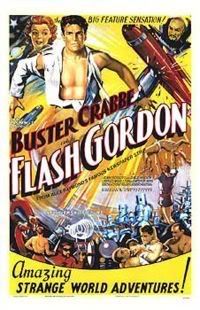 http://www.youtube.com/watch?v=B707Ava4wrY&mode=related&search
=
Clips de la serie original
http://www.youtube.com/watch?v=Wu7IleR1oFA&mode=related&search
=
Flash Gordon web site
Cast and plot synopsis
Article about the serial at Images Journal
fuentes extraidas de wikipedia