Adobe FLASH® o FLASH® se refiere tanto al programa de edición multimedia como al reproductor de SWF (Shockwave FLASH) Adobe Flash Player, escrito y distribuido por Adobe, que utiliza gráficos vectoriales e imágenes ráster, sonido, código de programa, flujo de vídeo y audio bidireccional (el flujo de subida sólo está disponible si se usa conjuntamente con Macromedia Flash Communication Server). En sentido estricto, Flash es el entorno y Flash Player es el programa de máquina virtual utilizado para ejecutar los archivos generados con Flash
Happy tree Friends
Happy Tree Friends (Los felices amigos del árbol) es una serie animada creada por Rhode Montijo y Kenn Navarro, hecha en Macromedia Flash por Mondo Mini Shows. Es una serie muy popular, que hizo su debut en Internet.
Según su página web, la idea de Happy Tree Friends fue concebida por Rhode Montijo al dibujar un conejo en un pedazo de papel y escribir "resistance is futile" (la resistencia es inútil) debajo.
El programa consiste en veintiún personajes basados en animales de bosques europeos y norteamericanos. Normalmente cada personaje aparece en un solo capítulo, pero en ocasiones se emiten episodios más largos donde aparecen la mayoría de los animales
Según sus creadores, Happy Tree Friends es una parodia de los cambios en los programas para niños de la actualidad. Señalan que, en otro tiempo, el entretenimiento en los programas para niños habría consistido en hacer de la violencia algo divertido y, hoy día, en cambio, se le estaría dando más propaganda a personajes bobos en programas educativos. (en inglés)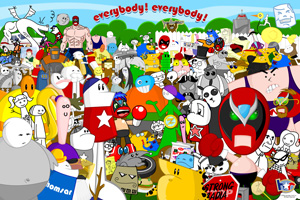 Homestar Runner es una mezcla de humor surrealista con referencias a los años 1980 y la cultura pop de los años 1990, vídeojuegosy clasicos de televsion. Aunque al principio fue concebido como un libro escrito para niños, el sitio gravita mayoritariamente hacia adultos jóvenes. EE.UU..
Las historietas nominalmente son centradas en Homestar Runner. Sin embargo, la serie de historietas en cual antagonista Strong Bad answers con supuestos correos de espectadores, es el rasgo más prominente de la serie. El sitio también ha crecido para abarcar docenas de otros carácteres.la serie es una de las mas conocidas en Internet y es notable su rechazo de vender en su espacio de publicidad .
Official website
Calico Electronico.
Ambientada en una metrópolis llamada "Electronic City", el protagonista es un superhéroe de figura contraria a la clásica (bajito, gordinflón y sin superpoderes) y de nacionalidad "aspañola" (que es una parodia de la nacionalidad española), que una y otra vez arriesga su vida para salvar a la ciudad. Asimismo en todos los capítulos adquiere diversos artilugios en la tienda Electrónicaweb.
Cada capítulo incluye las tomas falsas del rodaje.
Su creador es Niko, y su equipo Nikodemo Animation hacen diferentes animaciones de flash de todo tipo, generalmente en el género de la comedia.
En un inicio, el personaje de Cálico era la mascota de la página de la empresa Electrónica Web. Luego, como un intento de marketing, el personaje obtuvo su serie de animación propia en la cual, tiene gran importancia la tienda Electrónica web. Actualmente Cálico Electrónico tiene una fama sin precedentes en la animación flash española, llegando a ser visto en países de habla extranjera, y apareciendo en gran número de eventos relacionados con la animación en general
Ultimate Showdown of Ultimate Destiny. The Ultimate Showdown of Ultimate Destiny, a menudo asociado a Ultimate Showdown, es una canción cómica y un video lanzado el 7 de diciembre de 2005. Incluye la música y la lírica de Lemon Demon con una animacion de Flash de Shawn Vulliez.
El trabajo destaca muchos carácteres famosos verdaderos y ficticios, en gran parte tomados de la cultura pop de los años 1980, en una enorme reyerta donde " ... sólo uno sobrevivirá ". Esto hizo que se convertiria en un clip de culto con gran cantidad de seguidoresdesde su publicacion en Internet
Salad Fingers.Salad Fingers son una serie de historias de animacion para Flash creada por David Firth. La historieta ganó popularidad rapidamnete en Internet en 2005. Salad Fingers retrata una extraña historia y progresivamente mas inquietante a medida que se van sucediendo los capitulos.En las historietas surrealistas, de Salad Fingers los habitantes residen en un misterioso e irreal escenario . Cuando Salad Fingers habla, sus fluctuantes y apacibles monólogos hacen entrar en el espectador en un mundo extraño e inquietante ademas aparece en un texto chiflado sobre la pantalla.
Boards of Canada interpreta la música principal, destacando la canción " Beware the Friendly Stranger". La música oscura en la banda sonora que aparece cuando se asusta Salad Fingers es en realidad Daniel Firth tocando la guitarra ,`puesto en una grabacion realintazada y puesto del reves . Otra música incluida incluye el trabajo acreditado d Brian Eno y Aphex Twin. David Firth con frecuencia inserta referencias a Aphex Twin en sus historietas de Flash por ejemplo, el logo de Aphex Twin aparece en el telefono en el episodio cinco.
Princess. La princesa es una serie de animación de Flash de Trey Parker y Matt Satone. El corto al principio fue producido originariamente con Macromedia Flash en 2001 e iba ser emitido en la pagina Macromedia's sister-site shockwave.com El sitio rompió el contrato cuando Mate y el Trey les mostró los dos primeros episodios.
Trey y Matt han declarado que a ellos les gustarían hacer más episodios si alguien quiere distribuirlos y ha animado a usuarios de Flash a seguir la historia ellos mismos.
The Princess, episode 1
The Princess, episode 2
On the Moon.Anything can happen On The Moon es una serie Flash cartoon animada por Peter Murray Hill de Producciones Auriol y disponible en Weebl's Stuff. Escrito por Murray Hill (aka Peabo), Jonti Picking (aka Weebl) y la mayoría de las veces, Chris Vick (aka Skoo), la serie esta ambientada sobre la Luna, y concierne la vida extraña de los habitantes del satélite. La serie comenzó el 11 de julio de 2005, y doce episodios han sido producidos desde entonces
On The Moon's section at Weebl's Stuff
Ademas facilito los siguientes Links de otras series de Flash en Internet
George Liquor Bible part 2Serie Flash de John Kricfalusi
Official Harvey Birdman, Attorney At Law WebsiteHarvey Birdman, Attorney at Law
Select Napster Bad! cartoons at Camp Chaos Napster Bad !
Official websi de Joe Cartoon
Liquidgeneration.com Liquid Generation
.http://www.mondominishows.com/ Mondo- MinShows
http://www.muffinfilms.com/ Muffinsfilms
How to Kill a Mockingbird How to kill a Mockingbird
http://www.mit.edu/people/patil/yatta.html Yatta!
http://www.g4tv.com/codemonkeys/index.html Serie de Internet con aire de videojuego retro
http://www.seriesflash.com/ listado de series Flas en español
http://www.cookingwithbigfoot.com/ nueva serie de flash
http://www.flashforwardconference.com/winners Lo mejor del Flash 2007
http://en.wikipedia.org/wiki/Category:Flash_cartoons Indice para series de Flash en Wikipedia
Fuentes extraidas de Wikipedia http://en.wikipedia.org