Otra entrega mas para DvDs en esta ocasion seran dificiles de encontrar , se puede intentar conseguir en tiendas como
Phenomena DVD
http://phenomenadvd.eresmas.net/
o en los videoclubs de DVD importados y descatalogados de Lavapies y Malasaña "
Ficciones"
Ficciones De Cine:
, sino En Septimo Arte Digital
Séptimo Arte Digital
, Enlace Patrocinado
Mayor Catalogo Online Dvd
.
El primer titulo es un de corto de animacion surrealista dirigido por Tatsuo Sato llamado
"Cat Soup"
, de este tema mi amigo Jandro sabe mucho mas que yo , por lo que intentare ilustrar este DVD por lo que he encontrado en Internet y lo poco que he visto en "You Tube" que por cierto tiene bastante buena pinta y recuerda a esa maravillosa pelicula de animacion experimental llamada "
MindGame"
que se puede conseguir en
Phenomena DVD.
El corto es un ejemplo de humor surrelista protagonizado por unos gatitos antropomorficos. Cat Soup gano el "Excellent Prime" (Animation Division) en el
Fantasia Festival
y el "Silver Award"
Animation 2003 New York Exposition of Short Film and Video"
Cat Soup
en
Anime News Network
encyclopedia
Cat Soup
en
AnimeNfo.com
encyclopedia
The Hour-Glass Sanatoriumf
film polaco dirigido por Wojciech Has perteneciente a la escuela surrealista de la Europa del Este (Jan Švankmajer, Dušan Makavejev, Volker Schlöndorff) en esta pelicula se adapta la coleccion de historias de
Sanatorium Under the Sign of the Hourglass. El
film presenta una dinamica poetica surrealista muy depurada en un "viaje a traves de las convulsiones del tiempo"
The Hour-Glass Sanatorium
at the
Internet Movie Database
Journey into the Underworld
-- an essay on the film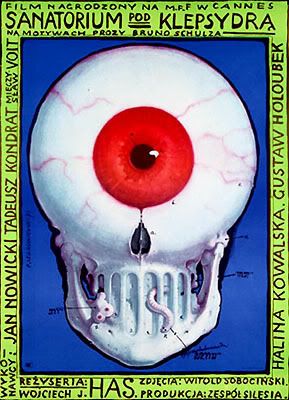 Thundercrack!
es una comedia negra dirigida por Curt McDowel, rodado en blanco y negro presenta una sobreexposicion y un contraste muy marcado, debido a su alto contenido sexual de todo tipo ha sido censurado en gran cantidad de paises, debido a muchos motivos en su contenido podria compararse a las peliculas de John Waters
Official website
Thundercrack! at IMDB
Angyali üdvözlet
esta dirigida por Andras yeles es una fabula esxistencialista repleta de simbolismo y surrealismo. Protagonizado integramente pro niños este film narra intersecciones de la biblia sin escatimar sus aspectos mas oscuros. Marcada por un hipnotico ritmos y una precisosista fotografia no tiene nada que desmerecer.
El tiempo de los Gitanos es
una de las primeras peliculas de Emir Kusturica quien defeniria su estilo finalmente con peliculas como "
Underground" "Gato Negro Y Gato Blanco" Arizona Dream" y la Vida es un Milagro